Navigating the Transition: A Comprehensive Guide to Assisted Living Facilities in The Woodlands Area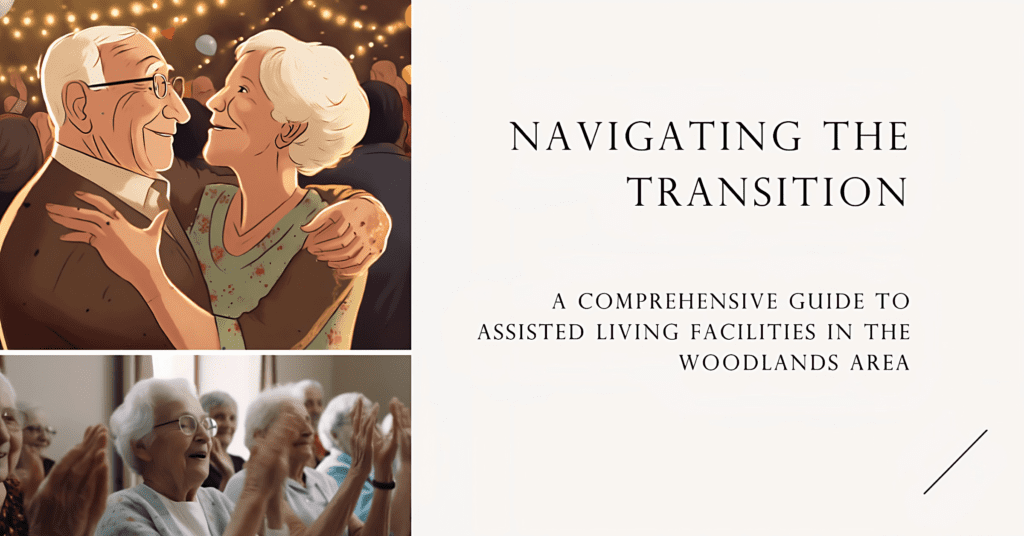 Discover the Path to the Ideal Assisted Living Community for Your Loved One in The Woodlands Area
Embarking on the Journey to Assisted Living
Purpose of the Guide
Embarking on the journey to find a suitable assisted living facility for a loved one or yourself can be overwhelming. The purpose of this guide is to provide you with valuable insights, tips, and resources that will help you navigate the decision-making process, ultimately making it easier to find the right assisted living facility in The Woodlands area.
Importance of Finding the Right Assisted Living Facility
Selecting the right assisted living facility is crucial for several reasons:
Quality of life: The chosen facility will greatly impact the daily life and overall well-being of its residents, so it's important to choose a community that offers a comfortable, safe, and engaging environment.
Personalized care: Each individual has unique needs and preferences, so it's essential to find a facility that can cater to those specific requirements and provide tailored care.
Peace of mind: Knowing that your loved one is in a facility that meets their needs and provides a high standard of care will offer reassurance and peace of mind to both the resident and their family members.
In the next sections, we'll delve into the factors to consider when choosing an assisted living facility, how to assess their quality, and ways to make the transition as smooth as possible.

Understanding Assisted Living Facilities
What is Assisted Living?
Assisted living refers to a type of long-term care facility designed for seniors who require some assistance with daily activities but do not need round-the-clock skilled nursing care. These facilities provide a comfortable and secure living environment, allowing seniors to maintain their independence while receiving support for their unique needs.
Common Services and Amenities in Assisted Living Facilities
Assisted living facilities often offer a wide range of services and amenities to cater to the diverse needs of their residents. Some of the most common ones include:
Personal care assistance (e.g., bathing, dressing, grooming)
Medication management and administration
Meal preparation and dining services
Housekeeping and laundry services
Transportation services for appointments and outings
24-hour staff availability for emergencies
Social and recreational activities (e.g., exercise classes, arts and crafts, movie nights)
On-site amenities (e.g., fitness centers, libraries, gardens)
The Benefits of Assisted Living Facilities for Seniors
There are several advantages of choosing an assisted living facility for seniors, such as:
Safety and security: Assisted living facilities are designed with seniors' safety in mind, often featuring emergency call systems, secure entrances, and well-lit common areas.
Social interaction: Living in a community with other seniors provides ample opportunities for social engagement, reducing the risk of isolation and loneliness.
Personalized care: Assisted living staff can tailor care plans to meet each resident's specific needs, ensuring that they receive the appropriate level of support.
Maintenance-free living: Seniors can enjoy a worry-free lifestyle without the burden of home maintenance, yard work, or housekeeping responsibilities.
Peace of mind for family members: Knowing that their loved ones are in a safe and supportive environment can provide invaluable peace of mind for family members.
By understanding the nature of assisted living facilities, the services they provide, and the benefits they offer to seniors, families can make well-informed decisions about the best living options for their aging loved ones.

Factors to Consider When Choosing an Assisted Living Facility in The Woodlands Area
Selecting an assisted living facility in The Woodlands area can be a daunting task, as various factors need to be considered. Here are some crucial aspects to keep in mind during your search:
Location and Proximity to Family and Friends
First and foremost, you'll want to consider the location of the facility. Will it be convenient for your loved ones to visit? Is it situated near essential amenities such as hospitals, shopping centers, and parks? A facility in a desirable location can significantly impact your loved one's happiness and sense of belonging.
Facility Size, Layout, and Accessibility
When it comes to facility size, layout, and accessibility, there is no one-size-fits-all approach. Some seniors may prefer a smaller, more intimate setting, while others might thrive in larger communities. Keep in mind the following points:
Evaluate the layout and design of the facility for easy navigation and accessibility.
Assess whether the facility provides ample space for socializing and recreation.
Ensure the facility complies with the Americans with Disabilities Act (ADA) and offers wheelchair accessibility if needed.
Staff-to-Resident Ratio and Staff Qualifications
An essential aspect of quality care in assisted living facilities is the staff-to-resident ratio and the qualifications of the staff. Here's what to look for:
A lower staff-to-resident ratio ensures more personalized attention and care.
Qualified staff should possess proper training, certifications, and experience in caring for seniors.
Make sure the facility conducts background checks on its employees for safety and security.
Services and Amenities Offered
Assisted living facilities offer a range of services and amenities to cater to the diverse needs of their residents. Some essential services to consider include:
Personal care assistance, including help with daily living activities such as bathing, dressing, and grooming.
Medication management and assistance.
Housekeeping and laundry services.
Transportation services for medical appointments and outings.
A robust calendar of social, recreational, and educational activities.
Cost and Payment Options
Finally, understanding the cost structure and payment options available at an assisted living facility is critical. Keep these points in mind:
Compare the costs of different facilities, considering the range of services and amenities offered.
Inquire about the availability of financial assistance or programs to help offset the costs.
If your loved one is a Veteran, contact the Veteran's Administration for help paying for assisted living.
If they have long-term care insurance, reach out to the insurer to help them understand the reimbursement guidelines.
Look for facilities that provide clear, transparent pricing structures to avoid hidden fees and unexpected expenses.
By carefully considering these factors, you'll be better equipped to find the perfect assisted living facility in The Woodlands area for your loved one.

Assessing the Quality of Assisted Living Facilities
When searching for the perfect assisted living facility in The Woodlands area, it's essential to consider various factors that can impact the quality of the community. Here are four key elements to evaluate:
State Licensure and Regulatory Compliance
Before committing to an assisted living facility, make sure that it has met all state licensure requirements and is compliant with regulations.
Check for a valid license issued by the state
Verify compliance with health, safety, and care standards
Research any past violations or complaints
Taking these steps will help ensure that the facility operates legally and adheres to the necessary guidelines to provide a safe and supportive environment for residents.
Reputation and Online Reviews
When determining the quality of an assisted living facility, it's important to examine its reputation and the feedback provided by residents and their families.
Browse online review platforms, such as Google Reviews and Yelp
Seek testimonials on the facility's website
Ask for recommendations from friends or family members who have experience with assisted living
By gathering diverse perspectives, you'll gain a more comprehensive understanding of the facility's overall quality.
Facility Tours and In-Person Visits
One of the best ways to evaluate an assisted living community is by experiencing it firsthand.
Schedule a tour of the facility, paying attention to cleanliness, safety measures, and overall ambiance
Observe staff interactions with residents and the level of care provided
Take note of the available amenities, activities, and dining options
A thorough in-person visit will help you gauge whether the facility is a suitable fit for you or your loved one.
Resident Satisfaction and Staff Turnover
Lastly, consider the happiness of the facility's residents and the staff's dedication to their work.
Ask current residents about their experiences and level of satisfaction
Inquire about staff turnover rates and retention initiatives
Look for evidence of strong relationships between residents and staff
A positive atmosphere, marked by satisfied residents and committed staff, is indicative of a high-quality assisted living facility.

Making the Transition to Assisted Living
Transitioning to assisted living can be challenging, but with proper preparation and support, it can become a smooth and positive experience. In this article, we will explore several key steps to take when preparing for this significant life change.
Preparing for the Move
Downsizing and Organizing Belongings
Downsizing can be an emotional and complex process. It's essential to sort through belongings and determine what to keep, discard, or donate. Start by decluttering and organizing your items, prioritizing sentimental pieces and daily necessities.
Create a list of essential items to bring
Categorize belongings into "keep," "donate," and "discard" piles
Seek help from family members or professionals when needed
Communicating with Family and Friends
It's crucial to discuss your decision to move into assisted living with your loved ones. Open communication ensures everyone is on the same page and can provide essential emotional support.
Schedule a family meeting to discuss your plans
Address any concerns or questions openly and honestly
Keep your loved ones informed throughout the process
Creating a Smooth Transition
Establishing Routines
Establishing routines early on can help make the transition into assisted living more manageable. Familiar routines can provide a sense of stability and control during this time of change.
Identify essential daily activities and habits
Work with staff to incorporate these routines into your schedule
Be open to adjusting and adapting your routines as needed
Participating in Community Activities and Events
Engaging in community events and activities can help you feel connected and integrated into your new home. Participating in these events can also alleviate feelings of loneliness and isolation.
Explore the community calendar for events and activities
Try new activities and be open to meeting new people
Encourage loved ones to join you in events when possible
Adapting to the New Environment
Developing New Friendships
Building new relationships is vital for your emotional well-being in your new community. Don't be afraid to introduce yourself to fellow residents and participate in social activities.
Attend community events and gatherings to meet new people
Initiate conversations and be open to new friendships
Maintain a positive and friendly attitude
Staying Connected with Loved Ones
Staying connected with family and friends is essential for emotional support and maintaining a sense of belonging. Regular communication can help ease the transition and foster a sense of continuity.
Schedule regular phone calls or video chats with loved ones
Plan in-person visits when possible
Share your experiences and updates about your new life in assisted living
By following these steps and focusing on open communication, organization, and social engagement, you can make the transition to assisted living a more enjoyable and comfortable experience.

Utilizing Professional Assistance
At Abundant Senior Living, we specialize in making your journey to finding the perfect assisted living facility as seamless as possible. Our expert team is dedicated to providing top-notch consultation and finder services tailored to your unique needs.
How Our Services Simplify the Process
Personalized approach: We take the time to understand your individual preferences, requirements, and budget, ensuring that we find the best match for you or your loved one.
Expert knowledge: Our team has extensive experience in the senior living industry and a deep understanding of The Woodlands area facilities, enabling us to provide informed recommendations.
Time-saving: By leveraging our expertise and resources, you can save countless hours spent researching and visiting various facilities, allowing you to focus on what matters most – the well-being of your loved one.
Support and guidance: We're with you every step of the way, from the initial consultation to the final move, providing guidance and assistance to ensure a smooth transition.
Contact Abundant Senior Living
For more information on how our assisted living consultation and finder services can help you navigate the transition to assisted living in The Woodlands area, don't hesitate to reach out:
We look forward to helping you find the ideal assisted living facility for you or your loved one, ensuring a comfortable, secure, and vibrant living environment.
Final Thoughts
Pinpointing the perfect assisted living facility in The Woodlands area is of paramount importance. Not only does it impact the well-being and happiness of your loved ones, but it also ensures their safety, comfort, and quality of life. Taking the time to thoroughly evaluate each facility and consider factors such as location, services, and quality plays a vital role in making an informed decision.
Navigating the search for an assisted living facility, however, can be a daunting task. Don't hesitate to seek professional help:
Expert guidance can streamline the process and alleviate stress.
Experienced professionals possess a wealth of knowledge about local facilities and can provide invaluable insights.
Our free finder service simplifies the search for the perfect assisted living community in The Woodlands area.
With the right support, finding an assisted living facility that caters to your loved one's unique needs and preferences becomes a smoother, more manageable journey. So, why wait? Reach out to our team today and let us guide you towards the best possible solution for your family.